Signalling Hello (Greensboro)
Hi, hello, how are you? During an artist residency at Elsewhere in Greensboro, NC I've decided to share simple gestures of common courtesy.
WHEN: late June 2018 / early July 2018

Opening Reception: Fri, July 6, 6pm – 10

Elsewhere, 606 South Elm Street, Greensboro, NC 27406
Signalling Hello (Greensboro) is the first part of an ongoing greeting initiative which seeks to share genuine encounters with pedestrians. Building on Situationist ideas of art, culture, and psychogeography, this process-oriented work is informed by Andrea Vail's singular action of wandering different urban paths from June 21, 2018 - July 4, 2018, while in residence at Elsewhere, to simply say, "Hello," to other pedestrians within the downtown Greensboro city limits. Elsewhere's 608 S. Elm Street doorstep, was the consistent point of her departures and arrivals.
The work now lives as a two-part expression: a cluster of hand-painted mapped journeys collapsed onto one another transferred directly on the 608 window; and a looped video with seven silent segments - one for each day of the week - of Vail speaking hellos toward the painted glass and to potential onlookers.
Simplified to the most minimal elements of walking and words, Signalling Hello (Greensboro) is a departure from Vail's common practice of reimagining previously owned things as commentary on American consumption habits. Unexpectedly overwhelmed by the abundance of Elsewhere's collection, Vail focused on the function of the building rather than it's contents. In an era that increasingly lacks human interaction, Elsewhere serves as a platform to promote connectivity among individuals and groups. Vail found inspiration in that notion and 'signaled hellos' to expand Elsewhere's bandwidth, drawing people to it like a metaphorical beacon.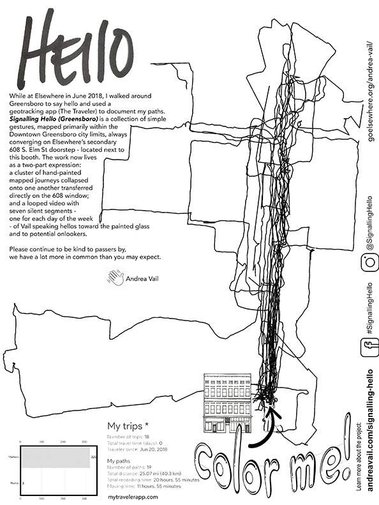 @SignallingHello | #SignallingHello